Does this sound familiar on occasion – rushing to drop off your child at day care then rushing to get to work on time? Then in the afternoon rushing to pick up your child from day care then having to run some errands before heading home and before you realize it, it is already 6:30 p.m.? The first thing you hear from your child? "I'm hungry!" It's late. There is absolutely no time to prepare a meal today, so what do you do? This is when you say YES to fast food. Feeling a little guilty? Don't be.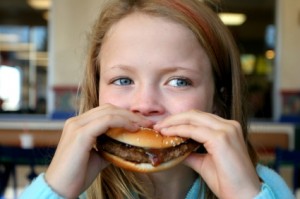 Making Healthy Fast Food Choices
Yes, healthy fast food does exist. Triggered by the astonishing amount of overweight and unhealthy people in certain countries, many fast food chains revamped its menus to include healthier options. You now can choose foods that represent the main macronutrients needed by your child – Protein, Carbohydrates, and Fats, without guilt. Here are some kid favorites with healthy choices:
Single Hamburger – Beef provides protein that children need. A plain hamburger without cheese has less calories and fat, but if your child wants cheese – that is fine. Cheese is filled with calcium that your growing child needs for bone strength. Stay away from the McDouble from McDonald's, Wendy's Triple Burger, or the full-size Whopper at Burger King. Opt for the plain or cheese single hamburger, and not the extra-large versions.
Grilled Fish Sandwich – Grilled fish sandwiches are healthier than the deep fried frozen variety. Grilling means less fat, fewer calories, and lots of protein. Stay away from McDonald's Fillet 'o Fish or any other fried options that are loaded in saturated fat. Grilled fish can also be found at Burger King and Jack 'n The Box.
Grilled Chicken Sandwich – Always choose the grilled variety that is available at McDonald's, Burger King, Jack 'n The Box, and Wendy's. Don't be confused with the fried version that is loaded with extra fat that your child does not need.
Fresh Deli Sandwich – Subway has the easiest and fastest healthy sandwich options. Choose whole wheat bread with roasted turkey, grilled chicken, or tuna with fresh vegetables. Skip on the oil option. The oils just add unnecessary fat to a healthy sandwich.
Chicken Nuggets – White chicken breast nuggets are healthier than the earlier versions of this food. McDonald's led this change with its McNuggets, decreasing the calories and increasing the protein. Burger King, Jack n' The Box, and Kentucky Fried Chicken have also followed in offering whole white meat nuggets. Stick with the 4-piece selection; otherwise, the fat starts to outweigh the protein.
Complete Meal Options
You can complete your meal with a healthy side dish. Many fast food restaurants now offer side salads, yogurt, or apples to complete your meal. Avoid the highly saturated fat served in greasy french fries. This is one of the worst fast food options you could choose. Your child is probably thirsty as well, so instead of reaching for the soda or other sugary fruit punch drink, choose pure fruit juice, milk, or bottled water. Now you have a complete meal.
How Often is Okay?
Fast food options are great for those days when you have just run out of time. It is always best to cook meals in advance and freeze them for options during the week; however, when you will be arriving home late and your child is screaming with hunger, you can save your sanity and choose the right fast food. Fast food is okay in limited amounts, not to exceed once a week. Fast food only becomes a health issue if it is eaten three or more times a week combined with unhealthy meal choices.
Your life is hectic. Choosing fast food is not all bad in moderation, so the next time your day is frantic and you don't have leftovers, treat your children to a fast meal. Try the healthy options – it promises to relieve you from additional stress and satisfy your child's hunger without the worry that you are feeding your child "bad" food. Haven't you already had enough stress for the day?