Alpha Cares proudly endorses the following organizations, and recommend these links for your reading - we believe that it is important to not only pay attention to  food/nutrition from a physical perspective, but also care for your mind and your spirit. Enjoy!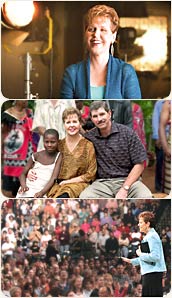 1. Joyce Meyers Ministries
Joyce Meyer Ministries has a God-ordained mandate to impact the world. We are called to present the Gospel to the lost, disciple nations, feed the hungry, clothe the poor, minister to the elderly, widows and orphans, visit prisoners and reach out to people of all ages and in all walks of life. God requires that we teach people how to apply biblical truth in every facet of their lives and encourage Christians to influence every aspect of the world around them.
Matthew 28:18-20; Isaiah 1:17
URL: http://www.joycemeyer.org/AboutUs/FAQ/
2. Tamara Lowe – Motivational Speaker
Tamara Lowe is recognized as one of the world's most successful speakers and consultants, having trained more than two million people in seventy countries. Tamara is a respected author, educator and businesswoman. She is the co-founder and Executive Vice President of Get Motivated Seminars, Inc., a business training company that produces America's largest business seminars.
Tamara has worked with five United States presidents and numerous heads of state including British Prime Minister Margaret Thatcher, Canadian Prime Minister Joe Clark, Israeli Prime Minister Benjamin Netanyahu, and Soviet President Mikhail Gorbachev. Tamara has also worked with countless celebrities, athletes and newsmakers including Colin Powell, Joe Montana, George Foreman, Goldie Hawn, Charlton Heston, Bill Cosby, Christopher Reeve, Billy Graham, and Mother Teresa.