Valentine's Day is just around the corner – there always seems to be some holiday or other where cookies and the like begin to sprout out from every corner!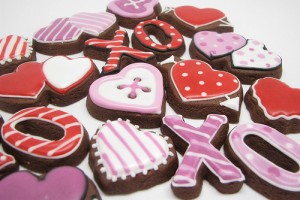 As the obesity epidemic increases in our society among the children, we as parents are responsible for what our children consume. We make them breakfast. We pack their lunches. We cook their dinners. We do the grocery shopping for snacks. We are in control of keeping our toddlers and young children on the healthy path of good eating. After all, what they are allowed to consume now will determine how they will eat and how much excess body fat they will carry as adults.
Even if you have been preparing healthy meals and snacks for your toddler or young child throughout the year, the holidays have a way of sneaking in and sabotaging healthy eating habits. It becomes a season of baking, and cookies are often the choice of food related gifts. Of course, you can't control what others give you. What you can control is your whether your child will eat these items.
Eliminate ingredients with no nutritional value in your baking
You can take mostly any recipe, and make it healthier for your little one. By having healthy treats available, your child will be satisfied and not beg for the unhealthy "treats" in the gift bags of nice red heart-shaped wrappings.
Natural sugars are already something found in your little one's diet, so the last thing you want is to intentionally add more sugar to their tiny bodies. Additional sugars will only begin the process of multiplying the amount of fat cells that their body has. This is something that will affect them now; as they grow, and even as adults. So the choices we make for our little ones now can determine not only their adult weight, but their future health as well!
Another item you want to eliminate is processed and high fat ingredients. Processed food, as the name implies, is processed and not natural to your child's body. These foods contain chemicals that are known to cause heart problems and cancer, so why would we want to predispose our precious children to this?
Substituting unhealthy ingredients for healthy ingredients
With all that in mind, here are some few changes that can increase the nutritional value of the cookies you bake:
Take out the white baking flour and replace with whole wheat flour
Use unsweetened applesauce instead of white or brown sugar
Use unsweetened applesauce to replace oil and/or butter
Use organic, raw, natural peanut butter for peanut butter cookies
Use vanilla for extra flavor when replacing sugar
Use cacao nibs in place of chocolate chips
These cookies will not only be healthy, but your child (even your significant other) will not know the difference – honestly! The cookies may be a little bit moister than cookies made with hardened oil, but who says cookies have to be crispy? Your child will love it – and you will love yourself more for giving your child the best start in life. Do you have other healthy recipes? Share them with us!